We took our deep love for cleanliness and our passion for the environment, paired it with our fancy for design to bring you Cutlery Carriage; a purpose-designed case for your cutlery (cutlery included)!
---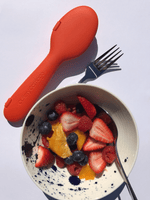 What's inside, you say?
Each set includes the case, a stainless steel fork and a spoon.
Case dimensions: 21.5cmL x 3cmH x 6cmW
Dishwasher safe | Environmentally friendly | Recyclable polypropylene (BPA free) case | Restaurant quality cutlery | Designed in Australia | Made in Australia | Design registered
Now available in 100% recycled material!
BUY NOW
Reviews
When I finished my lunch it was great to know I had a special place for my cutlery, I fell in love... love it.

Tracey - Victoria, Australia
It's great! Easy to use, fits in my bag and so nice not having to try and find cutlery at work that is always dirty.

Clare - Victoria, Australia
Great product, easy to clean and store. Highly recommend!

Daniel - Victoria, Australia
I absolutely love my Cutlery Carriage! It's so handy and helpful! Thanks for the best service :)

Erin - Victoria, Australia
I have loved the 2 sets I recently purchased. One was a gift & my niece is loving them. She also has a toddler which they are great for her for emergency for little mister. Thanks 👏

Jeanette - Victoria, Australia
I love this product. The cutlery is so nice to eat from and every time I don't pick up a plastic fork with my lunch I feel my heart warm. Join me and help look after the planet!

Nicole - Victoria, Australia
What a brilliant concept. I've lost so many forks and spoons last year this will save me.

Jacqui - Victoria, Australia
I love it! It's such a fantastic idea. I'll definitely be purchasing more to ensure the mouldy cutlery is a thing of the past!

Kristy - Victoria, Australia
I received my package today and love it! Thank you so much.

Courtney - Queensland, Australia